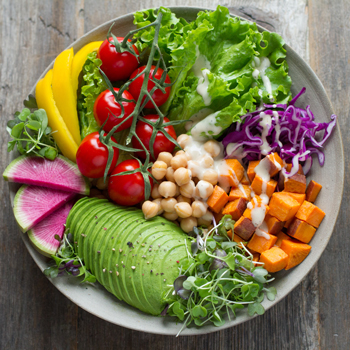 Did you know that our bodies' nutritional needs change as we age? A recent article from AARP, "What Should Your Diet Be Like After 50?", highlights some of the particular needs of adults over 50, which include increased intake of key nutrients, cutting calories, and resistance training to maintain strength. Check out the article for more details, then let the library help you with resources on cooking, health, and exercise.
We're buying new cookbooks all the time, so check out the 641 section at your local branch or our "Fun in the Kitchen" shelf in cloudLibrary to see what's new. Of course you'll be looking for healthy recipes to add roughage to your diet – but we won't tell anyone if you sneak a peek at some iconic American desserts while you're at it! (Just remember that a cookie is a sometimes food.)
Along with eating enough protein, it's important for adults over the age of 50 to engage in exercise to maintain muscle strength. Why not take a look at Mark Bittman's How to Grill Everything? If meat isn't your thing, a mix of plant-based proteins will do the trick. Check out Joe Yonan's Cool Beans for some vegetarian-friendly protein ideas. Then, explore some health and fitness videos from Hoopla.
AARP suggests some dietary changes to reduce chronic inflammation, but if you'd like more information, check out this article from Consumer Reports. (Remember that you can access news and ratings from ConsumerReports.org at home with your library card!) Find trusted updates on healthy eating and other health news here.
Last of all, you can find information on healthy living and diet in our digital magazine collection in Flipster. Take a look at Prevention, Eat Well, and Clean Eating. Vegan? Check out Vegan Food & Living.
Wherever you are in your wellness journey, the library is here to help you navigate all the information out there. Contact your local library or Chat with a Librarian in PowerLibrary if you need more help!
— Jennifer M., Collection Management Coordinator