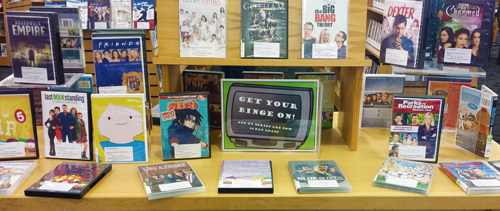 Chances are you've probably binge-watched a television show at least once. Seventy percent of Americans say they binge-watch, and 73% of those who do, say they feel positive about the experience. While some people plan their binge-watching sessions, many others find themselves pulled into a show, only to realize that several hours have passed and it's time for bed.
Whether you're a planner or a more accidental binge-watcher, a very fast binger, fairly quick binger, or slightly more relaxed binger, we have the TV shows you want to watch.
So grab your remote, your snack and drink, and use your library card to spend a few hours immersed in the shows on your "must watch" list or your favorite classic TV shows.
You can borrow TV shows for 14 days — that's more than enough time to consume several seasons of a series (or two). Our collection has series from the 1950s through today and includes these binge-worthy shows:
30 Rock
The Affair
Alias
All in the Family
The Andy Griffith Show
Barney Miller
Beverly Hillbillies
Big Bang Theory
Boardwalk Empire
Brady Bunch
Breaking Bad
Brooklyn Nine-Nine
The Carol Burnett Show
Castle
Cheers
Criminal Minds
CSI
Curb Your Enthusiasm
Deadwood
The Dick Van Dyke Show
Everybody Loves Raymond
Family Guy
Flight of the Conchords
The Following
Frasier
Full House
Game of Thrones
Golden Girls
Gunsmoke
Happy Days
Hill Street Blues
House of Lies
I Love Lucy
JAG
Laverne & Shirley
Little House on the Prairie
Lost
Mad Men
The Mary Tyler Moore Show
Modern Family
Monk
Mork & Mindy
The Muppet Show
Nashville
NCIS
New Girl
Outlander
Parks and Recreation
Pretty Little Liars
Quantico
Seinfeld
The Simpsons
Smallville
South Park
Star Trek: Enterprise
Thirtysomething
The West Wing
WKRP in Cincinnati
Looking for a TV show that's not listed here? Check our catalog.