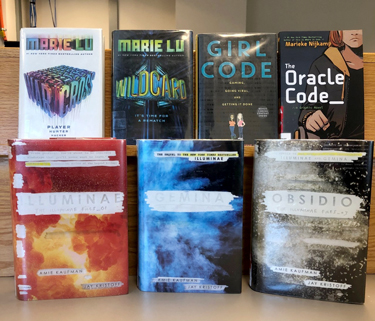 Have you ever had a problem with an app on your phone? Or an issue with something happening on your laptop? Or watched a street crossing sign work incorrectly on a busy road? Aside from being irritating, they all start with the same kind of problem. Something is wrong with their code.
Code, or coding, is not something that only hackers use in the spy movies. Coding is something ingrained into our everyday lives. It's how our applications on our smart phones work, it's how the self-checkout kiosks at the libraries work. It's how the traffic signals and safe-to-walk signs, and so many other things work.
Coding can sound complicated, but there's an easy and fun way to learn! At Code Combat you can fight through fantasy levels by learning and writing code! It's lots of fun and such a blast.
If you'd rather read about coding before trying it, we've got some amazing books to pick from.
Illuminae, Gemina, and Obsidio (The Illuminae Files 1-3) by Amie Kaufman and Jay Kristoff
This trilogy is full of outer space adventures, AIs gone mad, and six teenagers looking to beat the odds of survival. Kady in Illuminae hacks into several of her space ship's computers, looking for answers about her mom, her ex, and what on earth is happening to their Artificial Intelligence. After a savage takeover in Gemina, Ella Malikova must fight fire with fire and use her coding and hacking skills to take down a dangerous presence.
Wildcard and Warcross by Marie Lu
Warcross is more than the most popular game online, it is a way of life. And for Emika Chen, it's also a way out of debt. However, after hacking into an international championship, Emika is going to have a lot more to worry about than making rent. Instead, she's been tasked with hacking the game and finding a player who is determined to destroy the game's creator.
When Dimple Met Rishi by Sandhya Menon
At the heart of a gorgeous, diverse love story, is a computer coding camp. While Dimple wants nothing to do with Rishi, a boy her parents have chosen for her, she does want to show the world what she can do with an app. It becomes personal when the app concerns her father and his diabetes, as well as her love life.
The Oracle Code by Marieke Nijkamp, illustrated by Manuel Preitano
Batman fans know how Barbara Gordon ends up in a wheelchair. However, in this graphic novel, Barbara is injured after nearly reaching her goal of becoming a recognized hacker. After the incident, she is wheelchair-bound and sent to the Arkham Center for Independence. There strange and frankly creepy things begin to occur. Can she get to the bottom of it before it gets to her?
Girl Code: Gaming, Going Viral, and Getting it Done by Andrea Gonzales and Sophie Houser
Have you ever wanted to create your own game? Create your own app? Well Andrea Gonzales and Sophie Houser both wanted to. At a camp for coding, they created a game that would change the way people talked about periods. You can read their book and then play the game that made them famous at Tampon Run.
–– Shannon C., Youth Services Librarian