If you're ready to get your driver's permit, you're excited and nervous. You can't wait to get behind the wheel, but you're worried that you won't pass the permit test. That's understandable because most people fail their driving test the first time. 
That's where Driving-Tests.org comes in. The site offers free sample permit tests for every state, including Pennsylvania.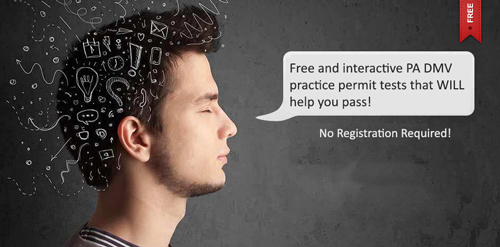 In addition to 12 realistic car practice tests, the site offers a downloadable copy of the Pennsylvania Driver's Manual and a list of frequently asked questions about obtaining a driver's license in Pennsylvania. 
If you're the parent of a teen driver, you'll be interested in the Parent Resources section, where you can find tips and tools to help you shape responsible driving behavior in your teen. Don't miss "Inside the Mind of a Teenage Driver," which reveals the things that most worry teenage drivers. These include parallel parking and getting lost. Funny, those are the same things many experienced drivers fear!
The Pennsylvania DMV also offers free teen resources including Teen Safety Tips and a Test Your Knowledge Quiz.