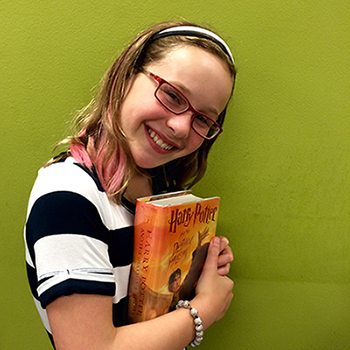 Congratulations to Allison Templeton of Yardley, who was named 2nd Place Grand Prize Winner and Pennsylvania State Winner in the "A Book That Shaped Me" Summer Writing Contest sponsored by the Library of Congress. Allison is in the 6th grade at William Penn Middle School.
The contest is open to readers in five states and the District of Columbia and is administered through participating public libraries. Allison submitted her essay through the Yardley-Makefield branch of the Bucks County Free Library.
This is the second year Bucks County Free Library has participated in the contest; this year we had 25 entries.
More than 200 readers submitted essays in the contest, which asks rising fifth- and sixth-graders to reflect on a book that has made a personal impact in their lives. Allison wrote about the impact the Harry Potter series has had on her life, reflecting that the series helped her make new friends, and stay connected to old ones, when she began attending a new school:
"Thanks to Harry Potter, I had something to talk to people about (because so many people read the books). [The books] also provided a way for me to stay connected with an old friend."

Allison also wrote of the "creative streak" the series "sparked," noting that the series "inspired me to open my eyes and write."
Allison will be awarded gift-card prizes in the amount of $200 and will read her essay during the "A Book That Shaped Me" presentation at the Library of Congress National Book Festival. The contest presentation will take place at the Walter E. Washington Convention Center in Washington, D.C. on Saturday, September 5. Information regarding the contest and presentation can be found on the Library of Congress website.