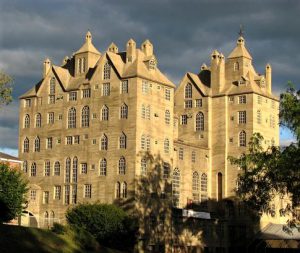 Did you know that there are castles in Bucks County? In the late 1800s, Doylestown-born historian and archaeologist Henry Mercer recognized the need to collect and preserve the outmoded tools and materials of daily life in America before they were swept away by the Industrial Revolution.
So Mercer gathered almost 30,000 items ranging from hand tools to horse-drawn vehicles and assembled this encyclopedic collection in a system of his own devising. To enhance the collection's educational value and share it with the public, Mercer decided to design and build a museum to display these artifacts. After constructing his castle-like home, Fonthill, from cast concrete – a technique and material wholly new to architecture – he then set about erecting another six-story concrete building in the center of Doylestown.
The National Park Service website notes that the Mercer Museum "resembles a medieval castle, with dovecotes, towers and turrets." All floors, walls and window frames are concrete; even more remarkable, the roof is constructed of reinforced concrete. The building is 115 feet high and contains 297 windows. The interior rises around a central court by way of a ramp that winds upward from the ground floor. As the visitor moves along the ramp, 70 alcoves or rooms exhibit the tools of 40 different crafts. It has been called one of America's most unique structures.
Read more about the Mercer Museum here.
Looking for more information on Bucks County attractions, history and recreational activities? Check out our collection.