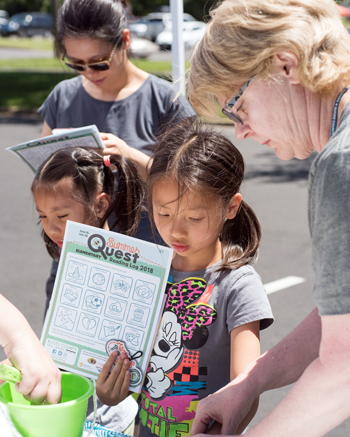 Join us on Saturday, June 22, when Summer Quest kicks off at all branches. We'll have GIANT games, bubbles, face painting, crafts, and more! Learn about this summer's limited-edition badges, pick up reading logs for the whole family, and enter our social media contest for a chance to win 6 VIP TICKETS to a Summer Quest performance on Saturday, June 29.
Summer Quest features a variety of free, fun activities to help kids stay active, expand knowledge, and engage with the community when school is out.
During Summer Quest families will find: entertainers and animals touring the branches, limited-edition Badge Squad: Summer Quest badges, a Design Your Own Badge contest, reading challenges, hands-on STEM activities, sensory experiences, physical challenges, arts and crafts, and storytimes.
Learn more on our Summer Quest page. To see events and activities taking place at your branch this summer, visit our Events calendar.