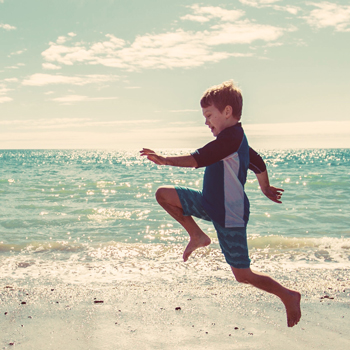 Children are naturally active, but like adults, they'll move more if they're having fun doing it. If you'd like to encourage your child to get physically active, tell him to move like an animal. He'll be jumping, running, and moving in no time!
Pull out your child's favorite picture book about animals, read it, and talk about how different animals move. Have your child act out the animals in the book. Alternatively, you can find a book that encourages him to move while you read.
Need book suggestions? Our librarians recommend these:
If You're a Monster and You Know It by Rebecca Emberley
Scoot! by Cathryn Falwell
Faster! Faster! by Leslie Patricelli
Hop, Hop, Jump! by Lauren Thompson
From Head to Toe by Eric Carle
Can You Make a Scary Face? by Jan Thomas
How Do You Wokka-Wokka? by Elizabeth Bluemle
Wiggle by Doreen Cronin
The Busy Body Book by Lizzy Rockwell
You can find more activities to get your child moving, as well as additional book recommendations at Let's Play School.