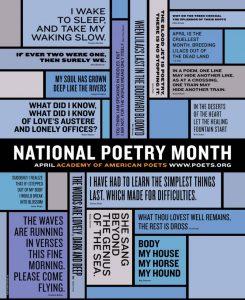 Chances are you loved poetry as a child. You laughed at limericks, wrote haikus, probably even kept a poem in your pocket.
Maybe you still love poetry today. But if you don't, chances are you fell out of love with poetry in high school. You broke up with poetry because of "tired lessons about iambic pentameter and teachers wringing interpretations from cryptic stanzas," leaving you and your fellow students "bewildered and chuckling."
As an adult, maybe the only time you read poetry is at weddings and funerals.
If so, it's time to bring poetry back into your life.
April is the perfect time to reconnect with poetry: it's National Poetry Month.
Pull a favorite poetry book off your bookshelf, visit your library, or sign up to receive a poem-a-day in your email box.
When bringing poetry back into your life, don't analyze it or ask others to analyze it:
"Don't deconstruct it or try to make meaning of it. Find the poems that wake you up … that make you feel (almost) irrational joy or sadness or delight … those are the poems you want to play with — forget the ones that don't make sense. Find those poems that communicate with the deepest parts of your being and welcome them in."
Image: Poets.org