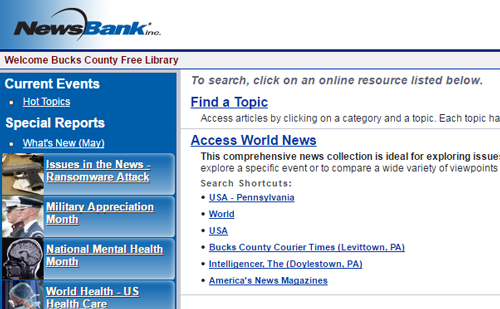 Our e-library continues to grow. Your library card now gives you access to Morningstar, for investment research, and NewsBank, which includes full text articles from local newspapers, such as the Intelligencer, Courier Times, Inquirer, and Morning Call.
Morningstar: stock market analysis; equity, mutual fund, and ETF research, ratings, and picks; portfolio tools; and option, hedge fund, IRA, 401k, and 529 plan research.
NewsBank: news database providing access to archives of media publications. Read full text articles, and explore issues and events at the local, regional, national, and international level.
Read as many articles as you'd like, at home, at work, on the go, and in the library. All you need is a library card.
Don't have a library card? Visit us for a full-service card or apply online for our e-Card, which gives you access to our e-Library.
These resources are made possible through the support of the Hamilton G. Disbrow Trust.