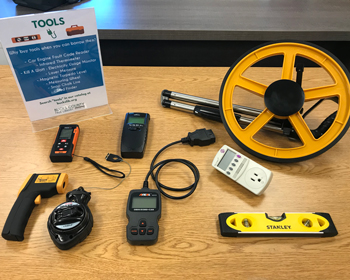 Why buy tools when you can borrow them from the library? When the Check Engine light goes on, or you need to locate studs in a wall, or you want to know just how much energy your appliances are consuming, check out one of the tools in our new tool collection.
Browse the entire tool collection in our catalog by searching for BCFL Tool Collection.
Car Engine Fault Code Reader: determine the cause of the Check Engine Light on most 1996 and newer vehicles. Tool can turn off Check Engine Light, clear codes and reset monitors. Contains a built-in lookup library.
Infrared Thermometer: point, aim, and measure temperature. For use in cooking, auto maintenance, and home repairs. Measures from -58F to 716F.
Kill A Watt Electricity Usage Monitor: connect to household appliances and count consumption by the kilowatt hour. Use it to calculate electrical expenses.
Laser Measure: includes multiple measurement modes like distance, volume, area measurement, continuous measurement, and measurement by Pythagoras. Two bubble levels provide precise measurement; accuracy: ±1/16 inch; measuring range up to 131 feet.
Magnetic Torpedo Level: top-read magnetic level with rubber ends. Water resistant, with pipe groove for use on rounded surfaces.
Measuring Wheel: designed to accurately measure up to 9,999 feet in a variety of environments. Has reset button, kickstand, and carrying bag.
Snap Chalk Line: features 100 feet of braided line and positive gear-lock line hold. Also features a folding crank, large fill neck, and a tool to facilitate line replacement.
Stud Finder: features task-dependent scanning modes. Scan for wood/metal studs up to 1-1/2 inches deep, metal (such as 1/2 rebar) up to 2.36 inches deep, and live unshielded AC wires up to 2 inches deep.