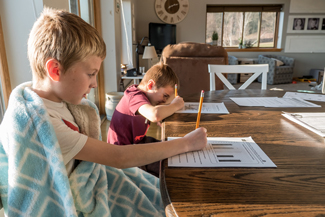 Well, we've been at this for a few weeks now. Maybe you started your "school at home" experiment (I won't call it homeschool because that is truly not what we are doing right now) with enthusiasm and color-coded schedules. Maybe you started slowly and anxiously and worked your way into a good routine. Maybe you're just slogging through, reinventing the wheel each day. Maybe, like me and my family, you're somewhere in between. It's all OK.
I wanted to write something acknowledging how hard this has been. How weird it is. How there have been tears, slammed doors, and stomped feet (and not just the kids!). But I suspect you've read it all before. Besides, my family's experience is not, cannot be, will never be, your family's experience. Maybe you are working. Maybe you aren't. Maybe you have one kid, maybe you have five. Maybe you have another adult helping you work through it. Maybe not. Hopefully, everyone you love is healthy. But maybe not.
One thing I am pretty sure of, though, is that if you've got school-aged kids at home, you've been inundated with resources and at-home activities. The glut of things to do and ways to keep your kids busy is great! But, it can also leave you feeling a little scatter brained, like maybe you're missing something great. Most days, I'm happy if we get through our school assignments without a fight, and I'm not looking to do anything extra. On those rare days where we have some free time and energy, I've discovered a few favorite resources for creative learning. Here, I've collected my family's favorite free at-home activities and resources. You might have seen some of these before, but I hope some others are new and fun, instead of feeling like a chore.
For a few of these resources, you'll need your library card and PIN. Don't have a card? Apply here!
Badge Squad: Fun themed activities for kids 5-14. Learn and play as you complete each theme. When the library is open again, come get your badges!
Boredom Busters Bitez: For elementary-aged kids, a three-times-per-week story and activities to keep you busy when you're stuck inside. With themes like animals, space, trees, and pirates, there's something here that everyone can enjoy. Which topic is your favorite?
Brainfuse: Study help and live online tutoring available for elementary school through college; you just need your library card number and PIN.
Cosmic Kids Yoga: This relaxing YouTube series has kid-friendly yoga with themes like Minecraft, Pokemon, Fairies, and Frozen. Grown-ups will like this too, but it's easy and engaging enough that kids can enjoy it on their own.
Go Noodle: Great for "brain breaks" or those rainy days, these easy, funny movement and music videos will get kids and grown-ups alike dancing and laughing. With cat parties, dancing moose, and songs about farts, everyone will find something to love. This is our go-to when we've all hit the wall.
Google Arts and Culture Virtual Tours of National Parks: Interactive, virtual tours of five different national parks, led by actual park rangers. Informative and fun for all ages!
Hour of Code: Learn to code with games and activities for all ages, from PreK through high school.
Lunch Doodles with Mo Willems: Mo Willems was the early hero of my family's quarantine. Kids will love seeing the origins of some of their favorite characters (Piggie, Elephant, and Pigeon) and grown-ups will enjoy Mo Willems' calm demeanor and sly humor. Make finger puppets, play a round of Super Bounce, and get a diploma at the end!
Power Kids: School aged e-books with accompanying videos, games, and activities for social studies and science topics. Log in with your library card number and PIN.
Steve Spangler Science: Quick and easy at-home science experiments you can do with things you probably have on hand already. We did the Naked Egg and the Lava Lamp!
— Nicole L., Library Manager, Bensalem Branch