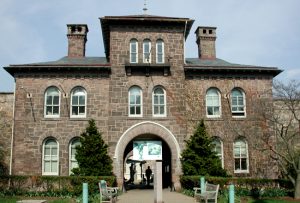 The massive stone walls and warden's house that make up the core of the Michener Art Museum began as the Bucks County prison in 1884. After a century of use, the abandoned and antiquated buildings were being torn down when the County Commissioners agreed to preserve the historic landmark and lease the land and buildings to house the new museum.
After extensive renovation, the Michener Art Museum opened to the public in September, 1988 with 35,400 square feet of space, a landscaped courtyard, an outdoor sculpture garden and terrace built in the original prison yard, seminar and conference facilities, a museum shop and café, and the George Nakashima Reading Room.
One of the museum's most prized permanent exhibits is James A. Michener: A Living Legacy, which recreates Michener's Bucks County office. The room features the desk, chair, typewriter, dictionary and other objects from the office in James A. Michener's Bucks County home where he lived and worked for more than 35 years. It was at this desk that he wrote some of his best-known fiction and non-fiction works, including Sayonara, The Floating World, Caravans, and Sports in America. Other objects on this desk include two autographed baseballs from the Baltimore Orioles, a dog license issued in 1965 for his 9-year-old terrier, his Gypsy Witch Fortune Telling Playing Cards and his Doylestown High School T-Shirt.
Learn more about the Michener Art Museum here.
Looking for more information on Bucks County attractions, history and recreational activities? Check out our collection.