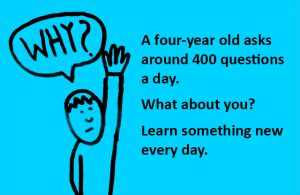 Did you know you can boost your chances for a long and happy life by learning something new every day?
The lifelong relationship between education and health and longevity is striking, according to recent studies.
So, take a class, learn a new hobby, read a book on a subject that has always interested you.
Personal finance writer Meg Favreau writes that it's possible to "boost your intelligence without spending a dime." She suggests nine free ways to learn something new, including visiting your library.
We'll add a tenth suggestion: use your Bucks County Free Library card and take free online courses through Lynda.com. Learn business, software, technology, and creative skills that can help you achieve personal and professional goals. You can access Lynda.com through the e-library on our website.
The value of learning goes far beyond any health benefits it provides. It can fuel innovation, help you more easily and readily adapt to new situations, and build your confidence.
And as B.B. King says, "The beautiful thing about learning is that nobody can take it away from you.