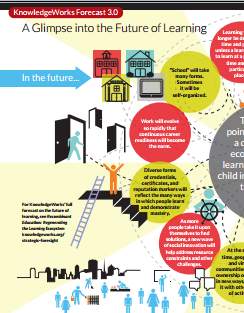 Want to know what tomorrow's learning environment will be like? This infographic tells the big story of KnowledgeWorks' third forecast on the future of learning, Recombinant Education: Regenerating the Future of Learning. 
Comprised of twelve key insights with accompanying graphics, it points the way toward a diverse learning 'ecosystem' in which learning adapts to each child instead of each child trying to adapt to school. Here's what you need to know as a parent to prepare your kids for the future
Looking for more information on early learning and childhood development? Check out our collection.