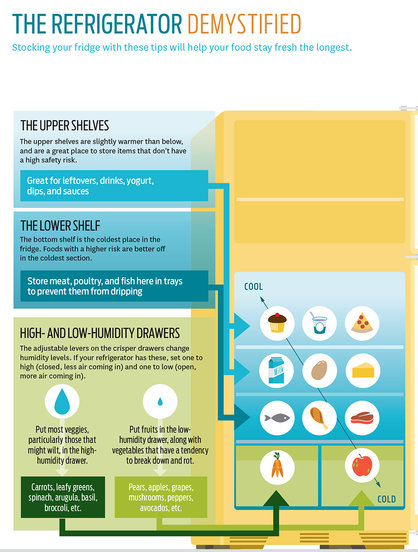 It happens all too often. You open the fridge looking for something to eat, reach into the back of a shelf, pull something forward, and find yourself holding a head of wilted lettuce or a bowl containing an unidentifiable something.
And into the trash it goes.
You're not alone. Experts say that the typical American family tosses out about $1,500 of food each year. Add to that restaurant waste, and the problem multiplies to 133 billion pounds of food wasted each year in the U.S.
As NPR notes, "All this wasted food is the largest component of solid waste in our landfills, and when it rots, it emits methane — a potent greenhouse gas linked to climate change."
What's a person to do?
In Waste-Free Kitchen Handbook scientist Dana Gunders offers many tips for tacking food waste at home, including ways to use food that you might consider past its prime.
That wilted head of lettuce you were thinking of throwing in the trash? Try sautéing it — after all, it's a green. Gunders also recommends freezing milk and reviving wilted vegetables in ice water.
Pay attention to where you're storing things in the refrigerator. Store items that need to be colder, like meats, on the bottom and those that don't need to be quite as cold, like yogurt, higher up.
The Frugal Shopper advises that one hour of planning at the beginning of the week can save you time, energy and money in the long run. If you think of it as the same amount of time you watch a TV show, it's easier to realize how little time it takes to plan meals.
Don't fear expired foods. The expiration date on foods like orange juice and even milk aren't indicators of when those products will go bad.
Even eggs can be used past their expiration date. A trick to know if they're still good is to put them in a bowl of water, and if the eggs sink, they're still good to eat. But if they float, they're not good to eat. The science is that the eggshells are somewhat air permeable, and so over time, they lose moisture and it gets replaced with air.
For more information on food product dating, including the differences between "sell-by," "use-by," and "best if used by" dates, read the USDA's Food Product Dating page.