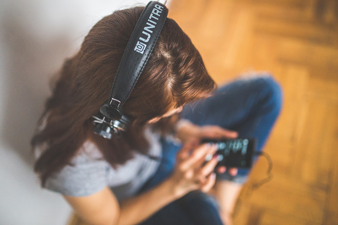 Use your library card to stream or download music for free using Hoopla. 
Hoopla makes borrowing music from the library as easy as streaming content on the web.
The music is available on demand, meaning you don't have to wait to listen to the new album from your favorite artist or band.
You don't have to remember to return the music; after the borrowing period is over, the files expire — poof! — so you never have to worry about overdue fines.
Once you've borrowed an album, you can stream it from Hoopla's website or on your digital device using Hoopla's iOS or Android apps. You can even download the music, and listen to it no matter where you are.
HOW?
Register for a Hoopla account: all you need is an email address, a password, your library card number, and your pin. Forgot your pin? Here you go.
Listen. Sing along. Maybe even dance a little.
(P.S. You can listen to audiobooks, and watch videos, too, using Hoopla.)