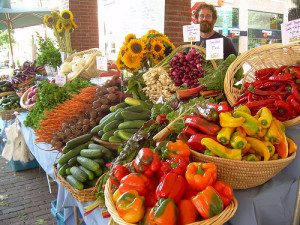 Bucks County is still largely a rural place, its farms and fields preserved and protected by generations of families with close ties to the land. Drive the county's back roads and you'll come across farm stands and produce markets offering an array of fresh – and often organic – fruits, flowers and vegetables.
Bucks County Taste, the online site about food and the stories behind the food of Bucks County, shares lists of seasonal and year-round farmers' markets.
The Penn State Cooperative Extension offer its list of Bucks County farms, vineyards, orchards, farmers' markets and community supported agriculture (CSAs).
Take the time to visit the farmers' markets in Ottsville, Plumsteadville, Perkasie, Langhorne, Feasterville, Yardley, and Doylestown for a fresh taste of Bucks County's bounty.
Looking for more information on Bucks County attractions, history and recreational activities? Check out our collection.