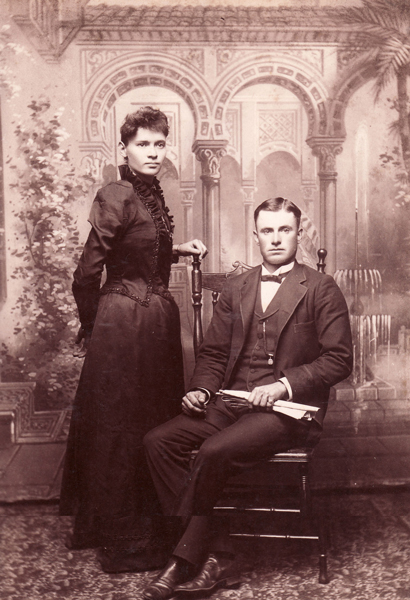 More than 80 million Americans are searching for information about their ancestors. If you'd like to join them, and learn more about your family heritage, we can help.
We've put together this list of free resources to get you started on your journey of discovery.
If you're new to genealogy, Ceil Hedrick, Assistant Library Manager, who has a lot of experience researching her family history, recommends reading Who Do You Think You Are? The Essential Guide to Tracing Your Family by Megan Smolenyak or Genealogy Online for Dummies. Both can teach you about the latest online tools and how to trace ancestral histories, locate family members, and get information from government records.
Online Research
Ultimately, you might have to put on your walking shoes and visit a historical society, cemetery, or research library, but you can do a lot of your research online.
Ancestry.com
This site calls itself the world's largest online history resource. You can use it for free with your library card, but you must visit the library to do so (the resource is free for in-library use only) and must access it through our website link. Ancestry.com has billions of genealogy records including census, SSDI, and military records. In addition, the site has a Learning Center offering first steps, census search secrets, and research tips.
HeritageQuest Online
Free with your library card, HeritageQuest Online allows you to search books, city directories, and census, military, and immigration records. The site also offers tips for beginning your research.
Library of Congress
The Local History and Genealogy Reference Services at the Library of Congress offers access to databases containing photographs, old newspapers, and other digitized resources, and includes tips for locating genealogical resources.
Power Library – Pennsylvania's Electronic Library
You can access Power Library from our website. The PA Photos and Documents section includes photographs, city directories, and a collection of local newspapers, which may yield useful information.
FindAGrave.com
Find A Grave is a "resource for anyone interested in finding the final disposition of family, friends and famous individuals."
Google Books
One genealogy expert recommends searching Google Books for your ancestor's name and seeing what the search yields.
The Statue of Liberty – Ellis Island Foundation
From 1892 to 1954, over twelve million immigrants entered the United States through Ellis Island. Your ancestors may have been among them, and you can search the Ellis Island Foundation's database of 51 million+ passenger records.
Fold3.com
Discover your family's military past at Fold3.com. The site is not free, but offers a 7-day free trial during which you can access everything on the site (so do your research in a hurry 🙂 ). Their records span from the Revolutionary War to recent wars.
Have fun discovering who you are and learning about your ancestors.
Photo: Greene Connections