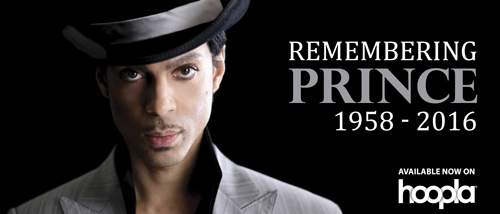 Fans of Prince, who want to listen to the music he created over a 40-year career, can stream his songs — immediately — using their library card and Hoopla.
As ABC News and other media outlets have reported, "Prince recorded 39 studio albums, but most of his music is not available on YouTube or streaming sites like Spotify. Last year, Billboard reported that the prolific singer removed his music from most sites. So, where can you pay homage and enjoy his classic hits?" At the library — for free.
Visit Hoopla to see their catalog of Prince's music or search our website's catalog. Find your favorite song and start listening now. You must be a resident of Bucks County to borrow materials from Hoopla.
Patrons who prefer physical CDs can place holds through our catalog; currently there is a wait — no surprise given the singer's popularity.
Don't have a library card? Apply in person at any location for a full service card or online for an e-card, which gives you access to our online resources, such as Hoopla, only.