The Basics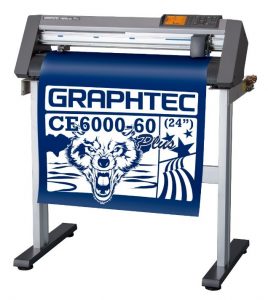 The Graphtec CE 6000-60 is a dependable and efficient vinyl cutter that can cut almost any design with the highest level of accuracy, regardless of how complex your design is. You can cut directly from a roll of vinyl, or from a sheet of vinyl from a previous project. This tool works best for cutting designs that are too large to cut on the Cricut Maker. This makes it the ideal tool to cut out large amounts of shapes, designs, and projects.
The Graphtec CE 6000 handles repetitive cuts flawlessly and is built to be able to run for long lengths of time. Whether you need to cut one copy or 100 copies of your project, this tool will be able to do the job. Designs can be imported from the Graphtec Software, or from 3rd party vector software like Corel Draw, Adobe Illustrator, and Inkscape.
What You'll Need
The library provides all of the supplies crafters will need except for a design to cut. Crafters can use the Graphtec pro cutting software to design their file, import one from another vector-based software, or download one from online. The library provides sign vinyl at a small cost, but crafters are able to use their own.
Cost
Vinyl…$2.00/linear foot
Measurements include:

Any white/blank/extra space

Failed prints due to design error

Prints that do not complete before a reservation expires
All material usage is rounded up to the next foot. For example, a 5 foot 3 inch print is rounded up to 6 feet/$12.
Station Reservations
Reserve the vinyl printer/cutter. Please note:
Customers are permitted one 120-minute session per day.
Reservations can be made up to 2 weeks in advance.