The Basics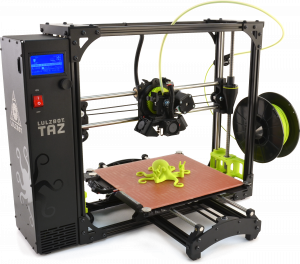 The Lulzbot Taz Pro 6 is a strong and durable 3D printer that produces high quality prints. With its large print bed it can tackle any project regardless of how small or large. This devices self-leveling bed ensures high-quality models with a nice level of detail. Printing can vibe controlled by the LCD screen attached to the printer or though the Lulzbot software installed on the desktop or laptop. Compatible with a wide array of 3D printing software like Octoprint, BotQueue, Slic3r, Printrun, MattrControl, and more, you can take the design process home with you so you can work both in and out of the studio. The Lulxbot Taz Pro 6 prints at a variety of rates so you can prototype your models in minutes. Once you're finished printing the 3D print head even cleans itself.
What You'll Need
The library provides all of the supplies crafters will need to print, except for the design file. Crafters will need to bring in their own design or download one from a website like thingiverse.com. Crafters may only use filament provided by the library.
Cost
PLA filament: $1 per ounce (weight will be calculated at end of print)
Price includes:

Rafts/brims/supports
Failed prints due to design error
Prints that do not complete before a reservation expires
Station Reservations
Reserve a 3D printer. Please note:
Customers are permitted one 120 minute session per day.
Extra time may be granted (at the discretion of staff) if no one is waiting.
If your project runs over your time limit, we will allow it to continue to print until completion or until the next appointment arrives and is ready to print (whichever occurs first).
Projects will be stopped 30 minutes before closing.
Reservations can be made up to 2 weeks in advance.