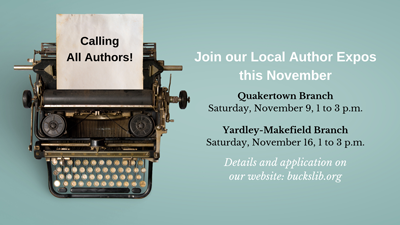 We are hosting two local Author Expos this November and are looking for authors who would like to participate. The Expos will take place on:
All professionally-published and self-published authors (fiction, nonfiction, local history, and children's books) from the area are eligible to apply with priority given to Bucks County residents. Authors can promote their published work(s), meet with members of the local community, interact with other writers, and sign and sell copies of their books during the events.
We will provide each author with a table and two chairs. Authors are responsible for creating their own display and making change for book purchases.
To apply, complete the application and submit it online by Sunday, September 29, 2019.
Contact us with additional questions.