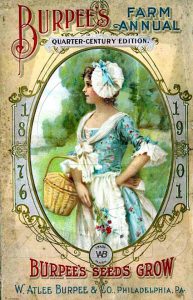 The Burpees were a well-established Philadelphia family descended from French Canadian Huguenots. W. Atlee Burpee, born in 1858, was expected to become a physician
like his father and grandfather, but even in his early youth he seemed determined to pursue a different career.
His boyhood hobby was poultry breeding – an interest that soon expanded to include the breeding of livestock, dogs, and plants. By the time he was in his mid-teens he had gained recognition when his papers on breeding experiments were published in England. Although he enrolled at the University of Pennsylvania Medical School at his father's insistence, he soon dropped out to pursue his passion and set himself up in the business of breeding poultry and eventually branching out to sell seeds and other farming supplies.
In 1888, Burpee bought a farm near Doylestown and dubbed it Fordhook, transforming it into what would soon become a world-famous plant development facility. The farm, located outside of Doylestown adjacent to Delaware Valley College, is still owned and operated by the Burpee company. It encompasses 12 buildings, including houses, barns, a spring house, ice house, carriage house, cottage and seed house, as well as two greenhouses.
Looking for more information on Bucks County attractions, history, and recreational activities? Check out our collection.