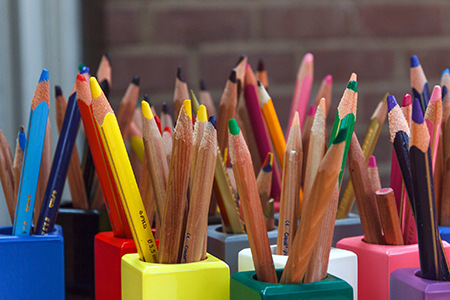 It's back-to-school time, and if we could, we'd give you a bouquet of newly sharpened pencils to celebrate. Instead we'll give you another gift: a list of helpful e-resources for the students in your life.
Let's Play School: fun badge program that helps children practice the skills they need to be successful in school (preschool)
TumbleBooks: ebooks (picture, easy reader, and chapter), games, videos, language learning, and more (elementary)
BrainFuse: live help from expert tutors, skills building, writing, homework and language help, state and national test prep, including GED, and more (elementary and above, including adults)
Lynda.com: online video classes from beginner to expert in design, technology, productivity, and business software (high school and above)
Axis 360, OneClick Digital, OverDrive: audio and ebooks (elementary and above, including adults)
PA Power Library Resources
Live Chat with a Librarian: 24/7 live chat reference service with a librarian (elementary and above)
BookFlix: pairs classic video storybooks with related nonfiction ebooks to help students build a love of reading and learning (pre-school to third grade)
AP Images: the greatest events of the past 185 years through photographs, audio, video, and graphics (elementary and above)
Contemporary Authors Online: provides access to biographical and bibliographical information on more than 145,000 of today's most influential authors (middle school and above)
Explora Elementary Student Research and Middle School Student Research: reliable information on thousands of topics covering a wide range of subjects including art and music, literature, language arts, geography, history, social studies, world cultures and languages, science, technology, engineering, mathematics, health, and sports
SIRS Discoverer: general reference database including over 2,100 newspapers, magazines, and reference materials, covering reading, language arts, current events, science, social studies, history, health, and technology (elementary and above)
Primary Search Main Edition: provides full-text access to popular magazines for research dating back to 1990 (elementary)
Middle Search Main Edition: provides full text access to popular magazines, thousands of biographies and historical essays, and an image collection with over 960,000 photos, maps, and flags (middle school)
All resources listed are free and available 24/7 through through our e-library.