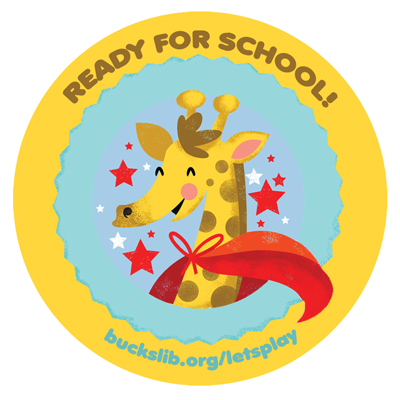 The Bucks County Free Library has many free resources for families with young children. Our latest is one we know children and their caregivers are going to be very excited about: Let's Play School.
A fun, online educational program, Let's Play School helps children prepare to enter school ready to read, write, and listen.
By completing fun activities using common household materials, children earn badges while practicing skills that are essential for school success. A child practicing make-believe can learn about social skills; a child taking a walk around the neighborhood can practice math skills; a child working with playdough can strengthen creative and fine motor skills.
Each time a child earns a badge, he or she can visit the library to collect a sticker. After earning 12 badges, a child completes the program and can visit the library to earn a special prize!
The activities in Let's Play School focus on five areas: cognitive development, physical development, creative arts, social and emotional development, and language development. With 20 badges and 100 activities, the program has activities that will appeal to every child.
Let's Play School fits the schedule of busy caregivers and is easy to play. To sign up, all you need is an email address and an internet-connected device. Register today at www.buckslib.org/letsplay.