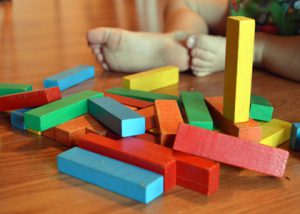 Playing with wooden blocks: a fun, creative way for kids to learn grown-up skills like collaboration, negotiation, measurement, and balance.
In one form or another, blocks have existed for hundreds of years. Alphabet blocks appeared as early as 1693. Standard wooden blocks, also known as unit blocks, were designed by an educator in 1913 and have been a favorite of children, parents, and teachers ever since. Some call them the anti-app.
"Blocks have never, ever, marketed themselves as an educational toy. For most parents, they've simply been something that was fun to do," says Dr. Dimitri Christakis, Director of the Center for Child Health, Behavior, and Development at Seattle Children's Research Institute. "What is somewhat unique about blocks is that they're a great venue. Children love them and like to play with them both with their parents and on their own. In today's climate there are literally hundreds, if not thousands, of toys that make explicit claims that they are educational, that they will make your child smarter, or a young engineer or a poet. And the overwhelming majority of those products have no evidence whatsoever to make those assertions."
Though they may just think they're having fun, playing with blocks can help children strengthen their language and cognition skills, according to some early childhood studies. At one preschool, children use blocks to measure, to collaboratively build structures — that may or may not topple! — to create obstacle courses, and to engage in unstructured play.
Real learning occurs when children have unscheduled, free play time, notes one educator. "They still need those hands-on, tactile materials to make sense of the world."
So, pull out those blocks and get down on the floor with your child while he or she builds a fantastic structure and learns about the laws of gravity or how to count. As Dr. Christakis notes, "Interacting with your child is exactly what they need for both the short term and the long term."
Don't have blocks? Borrow ours.