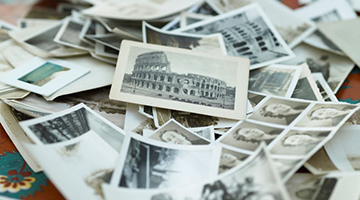 You know all those photos you've been taking this summer of graduations, vacations, and family get-togethers? If you're like most people, you might post a few of these to social media or share in an email, but the rest will stay on your phone or camera card. Maybe you'll even transfer them onto your computer where they'll remain an unorganized mess. Add to this heaps of old family photos taken before the digital age, and the task of sifting through your treasured memories begins to feel overwhelming.
Lifehacker has a list of tools that can help you deal with a job, that — let's face it — is just going to grow and get more difficult as time goes on. Most of these tips are geared toward organizing your digital files.
One way to tackle printed copies of old family photographs is to organize them by your oldest relative and move down the family tree. Another idea is to organize by holiday (Thanksgiving) or event (family vacations). If you'd like to make digital copies of these photographs, you can scan and save them to your computer or in the cloud.
Don't have a scanner? Don't let that stop you — every Bucks County Free Library branch has a scanner you can use, for free. Easy instructions for using the equipment are posted at each scanner station, but if you have questions, our staff is always available to help.
What are you waiting for? Try something new — start organizing your photos today.